Elliptic Labs Environmentally-Friendly AI Virtual Smart Sensor INNER BEAUTY
®

III Enables Xiaomi Mi Mix 3 5G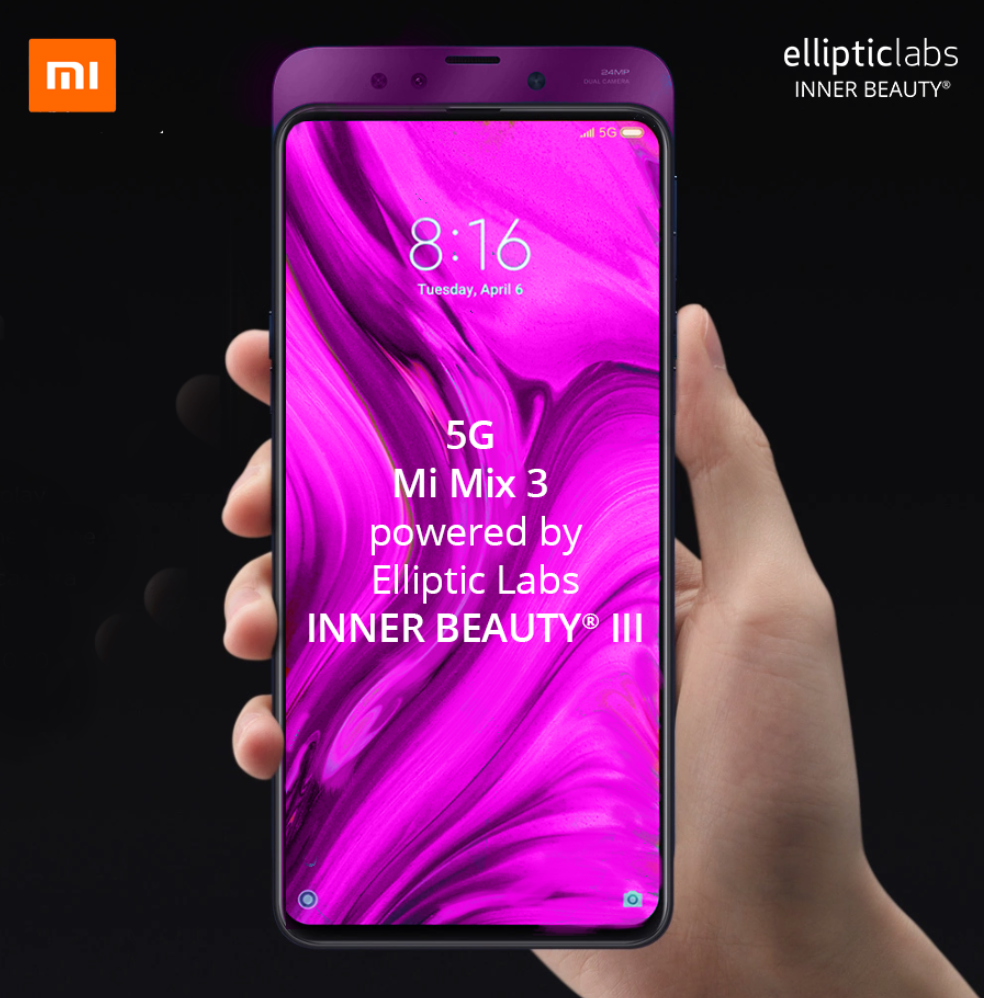 Available in Sunrise's Swiss Stores May 2, 2019
Oslo, Norway and Beijing, China — Since 2016, one of the Mi Mix's most celebrated features has been the nearly bezel-less display, which is empowered by Elliptic Labs INNER BEAUTY III. With sustainability in mind, virtual proximity sensor INNER BEAUTY® replaces a phone's traditional IR hardware proximity sensor with state-of-the-art software embedded with machine learning. This enables the removal of space-hogging hardware while simultaneously boosting detection accuracy and enhancing user experience.
Continuing their success with the Mix 3 design, Xiaomi has integrated the Snapdragon 855 chip with the Qualcomm X50 modem to provide this 5G version of their popular phone. This 5G version is available today to consumers in Switzerland, on the Sunrise network. It is one of the first commercially available 5G smartphones in the world. 5G's superior speed and performance will unlock coveted features such as Elliptic Labs INNER MAGIC™ Virtual Gesture Sensor for contextual and intuitive gesture-based user interfaces.
The global rollout for the Mi Mix 3 5G empowered by Elliptic Labs INNER BEAUTY III virtual proximity sensor will be happening soon.
INNER BEAUTY is a registered trademark and INNER REFLECTION and INNER MAGIC are trademarks of Elliptic Labs. Other trademarks or service marks belong to their respective owners.
About Elliptic Labs
Elliptic Labs is a global company and the world leader in AI virtual sensors for the smartphone, IoT, and automotive industries. We transform products using machine learning and/or sensor fusion to combine ultrasound with data from existing device sensors to produce smarter, greener, safer, and more intuitive devices. This allows us to eliminate the need for infrared, radar, and time of flight hardware sensors, saving OEMs components costs and freeing up design space. Our AI Virtual Smart Sensor Platform™ provides precise presence sensing and enables touch-free gesture controls such as scroll, approach, and double-tap — software which is now deployed in over 30 million devices. Going forward, we strive to empower more industries with our AI platform and build a stronger AI ecosystem together with the industry.
PR Contacts:
Aoife Kimber
KimberPR for Elliptic Labs
akimber@kimberpr.com
1 650 773 7288