Elliptic Labs CEO Laila Danielsen Receives Silver in Stevie "Female Entrepreneur of the Year"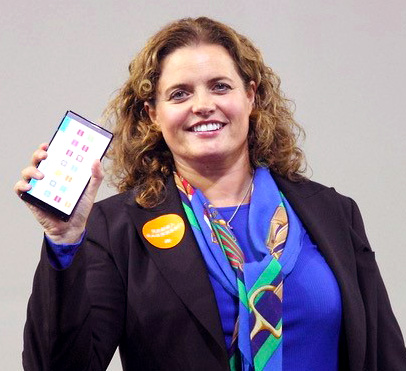 Once again, the prestigious Stevie® Awards for Women in Business has bestowed significant recognition on Laila Danielsen, CEO of Elliptic Labs. This year, she was named the silver award winner as a global "female entrepreneur of the year" for 2018. More than 1,550 nominations from 33 nations competed for the award this year. This is the second year Danielsen was a Stevie winner.
Judges considered various factors in choosing Danielsen, looking at her considerable recent accomplishments as she drives Elliptic into achieving new breakthroughs. Here are some of the feats that captivated judges and their comments revealing why they gave her the award.
Building on leadership in enabling bezel-less phones
Known for her hard-charging, take-no-prisoners approach to creating new products, Danielsen brokered a deal with giant smartphone manufacturer Xiaomi that began in 2016 and has since continued through three new generations of Xiaomi's best-selling phones. By incorporating Elliptic's INNER BEAUTY® Virtual Proximity Sensor, Xiaomi was able to eliminate hardware on its phone and thus kick off the revolution in full-screen phones. Said judges:
"Laila's accomplishments are evident across large and emerging companies… she has a sense of deal making and breaking through barriers."
They also commented:
"Excellent product, concept, initiative and execution," and "Well-laid-out submission that clearly identifies the accomplishments for the judging period highlighting the advanced technology of the company and Laila's strong business acumen."
Expanding the technology into fast-growing, popular new markets
As she has done before at Elliptic, Danielsen has an uncanny insight into the market which she uses to focus the company's unique ultrasound sensing technology on lucrative new consumer market segments — in this case, smart assistants. Kicking off the next phase of her company's growth, a new product called INNER REFLECTION™ was launched that gives these devices unique awareness of human presence that had been heretofore unavailable. Judges commented about this technology:
"Love the idea and there is a great need for this. Very creative,"
"Significant achievements in a very tough market."
Getting more significant new customers
Given how the bezel-less phones enabled by Elliptic technology shook up and reinvented the smartphone market, Danielsen developed huge new customer partners for its INNER BEAUTY technology in 2018. It was incorporated into Smartisan's much-anticipated Nut 3 smartphone, making possible a full-screen display but also enabling the phone to have gesture control, proximity and presence detection that continuously learns and improves as users interact with phones. Judges congratulated Elliptic saying:
"Congrats on your business growth and unique approach," … "Love this submission — so many things to applaud over the past year. Innovating and creative."
Forging partnerships with major manufacturers
Leaders like Danielsen are constantly attuned to the need to make their technology available as widely as possible, which is why she brokered a deal with huge multinational semiconductor company Qualcomm. By making its software technology run on Qualcomm's Snapdragon 845 Mobile Platform using the Snapdragon Neural Processing Engine, Danielsen made it possible for any OEM or developer to rapidly deliver touch-free gestures that are natural extensions of human interaction in addition to adding full-screen displays to mobile technologies. The judges were particularly impressed they said:
"I like this intention and idea"
"Amazing achievement! So determined and passionate!"
Building out the team to prepare for the future
To accompany the significant new product directions and partnership she achieved, Danielsen supported these efforts with a doubling of staff around the world. In the past eighteen months, she has significantly added to her team across three continents in Norway, China and San Francisco. The judges commented by saying:
"Good to see your achievements since 2014 to 2018"
"Nice to read a bio that shows the person has more to life than a business. The supplemental materials are excellent selling tools."
If you want to see the unique Elliptic Labs technology view it here
About Elliptic Labs
Elliptic Labs is a global AI software company and the world leader in AI virtual smart sensors for the smartphone, IoT and automotive industries. Elliptic Labs transforms products using machine learning and/or sensor fusion to combine ultrasound with data from existing device sensors to produce smarter, greener, safer and more intuitive devices. This allows manufacturers to eliminate the need for infrared, radar and time-of-flight hardware sensors, saving OEMs component costs and freeing up design space. The AI Virtual Smart Sensor Platform™ provides 360-degree precise presence sensing, breathing detection, and touch-free gestures. Elliptic Labs is headquartered in Norway and also operates in the United States, China, South Korea and Japan. Its employees throughout the world are motivated by common core values of diligence, innovation and integrity. For more information, visit: www.ellipticlabs.com.
PR Contacts:
Aoife Kimber
KimberPR for Elliptic Labs
akimber@kimberpr.com
1 650 773 7288