Elliptic Labs' AI Virtual Proximity Sensor INNER BEAUTY III Enables Full Screen for Xiaomi's Mi MIX 3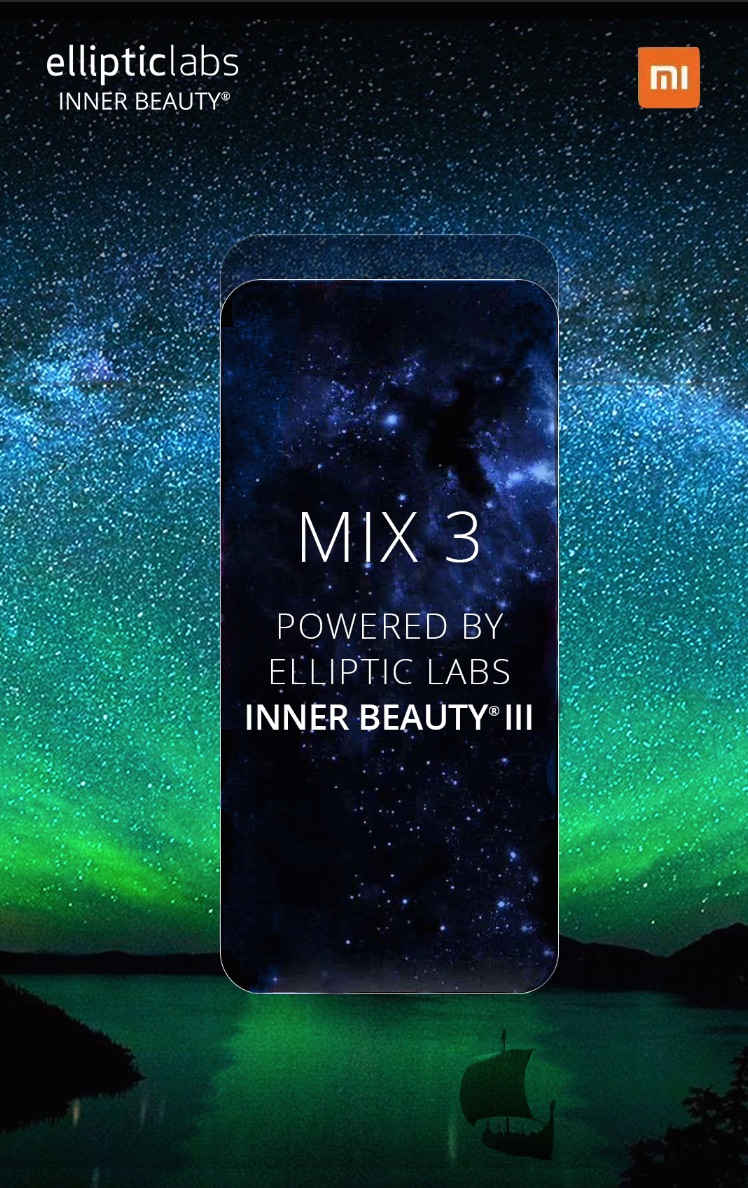 San Francisco, Calif., and Beijing, China — In 2016, Chinese smartphone giant Xiaomi spearheaded the bezel-less design era with the launch of its Mi MIX product line, igniting overnight global demand for truly full-screen phones. With its top-selling Mi MIX series, Xiaomi is again partnering with Elliptic Labs, provider of the AI virtual proximity sensor software that empowers this trend. INNER BEAUTY® replaces a phone's traditional IR hardware proximity sensor with state-of-the-art software embedded with machine learning, enabling the removal of space-hogging hardware while simultaneously boosting detection accuracy and enhancing user experience.
Phones equipped with INNER BEAUTY III avoid needlessly thick bezels, notches, holes and other intrusions required by hardware optical devices, maximizing the functional area of the screen. Xiaomi's new Mi MIX 3, which will be launched on October 25, takes full advantage of this technology to create its futuristic, full-screen design with only a thin, reinforcing bezel.
INNER BEAUTY III is just one module in Elliptic Labs' AI Virtual Smart Sensor Platform, which fuses ultrasound sensor data with standard smartphone data to enhance gesture recognition and enable presence detection for phones. Other modules in the AI Virtual Smart Sensor Platform include INNER REFLECTION™ (a virtual presence sensor) and INNER MAGIC™ (a virtual touchless gesture sensor).
"With artificial intelligence, Elliptic Labs is enabling the next generation of smartphones that detect user interaction to improve features and performance," noted Elliptic Labs CEO Laila Danielsen. "By using machine learning and sensor fusion, INNER BEAUTY III's performance has dramatically improved. Optical IR sensors are progressively becoming obsolete, since they do not meet the requirements for full-screen designs. Our virtual proximity sensors eliminate the need for dedicated hardware like infrared optical sensors, enabling OEMs to simplify their supply chain, reduce component costs, save space and enable full-screen designs."
INNER BEAUTY is a registered trademark and INNER REFLECTION and INNER MAGIC are trademarks of Elliptic Labs. Other trademarks or service marks belong to their respective owners.

About Elliptic Labs
Elliptic Labs is a global company and the world leader in AI virtual sensors for the smartphone, IoT, and automotive industries. Elliptic Labs transforms products using machine learning and/or sensor fusion to combine ultrasound with data from existing device sensors to produce smarter, greener, safer and more intuitive devices. This allows manufacturers to eliminate the need for infrared, radar and time of flight hardware sensors, saving OEMs components costs and freeing up design space. The AI Virtual Smart Sensor Platform™ provides 360-degree precise presence sensing, breathing detection, and touch-free gestures. Elliptic Labs is headquartered in Norway and also operates in the USA, China, South Korea, and Japan. Its employees throughout the world are motivated by common core values of diligence, innovation, open-mindness, and integrity.
PR Contacts:
Aoife Kimber
KimberPR for Elliptic Labs
akimber@kimberpr.com
1 650 773 7288