Elliptic Labs CEO Laila Danielsen Nominated as Finalist for Women Leaders in Business Award by the Sales Lead Management Association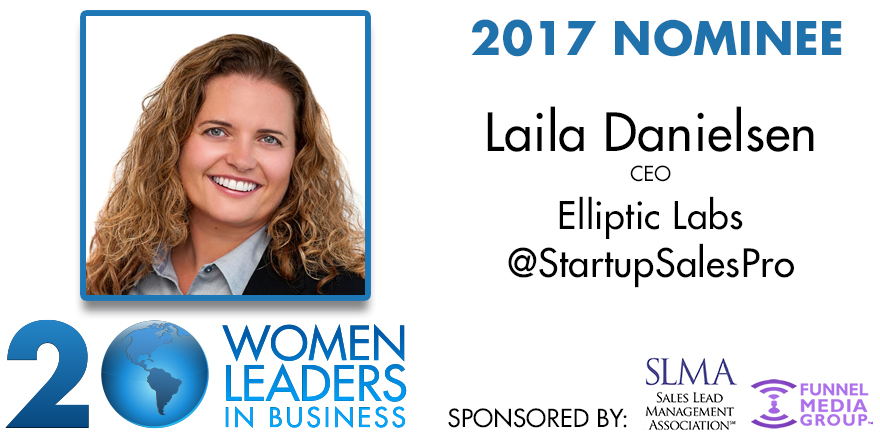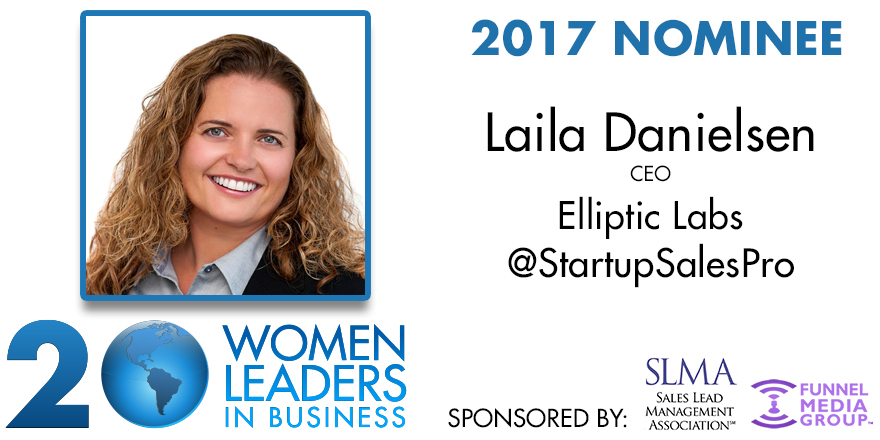 Danielsen Recognized for Her Exceptional Leadership Skills and Strong Customer-Orientation
San Francisco, CA — Elliptic Labs, innovator in ultrasound sensing, announced today that its CEO Laila Danielsen has been nominated as one of the 20 Women Leaders in Business for 2017 by the Sales Lead Management Association (SLMA). Danielsen is renown for driving change and brokering successful deals. Working in the competitive, challenging world of consumer electronics in Asia, Europe, and the U.S., Danielsen has ensured that Elliptic Lab's ultrasonic technology is now used in the fastest selling smartphone in China. Elliptic Labs' ultrasonic proximity sensor technology, INNER BEAUTY™ is behind the world's first, bezel-less smartphone: the Xiaomi Mi MIX.
Danielsen is also behind INNER PEACE™, a new technology advance that takes presence detection to new levels and is aimed at the fast-multiplying market for intelligent personal assistants and similar devices. She also launched the world's first SDK for touchless interaction powered by ultrasound.
Speaking about the award, James Obermayer said "The Sales Lead Management Advisory Committee is comprised of people who understand the discipline of sales lead management. Our core mantra is 'if you cannot manage sales leads you cannot manage sales.' We recognize that Danielsen is an outstanding leader bringing her company to success in the challenging consumer electronics market."
At Elliptic Labs, Danielsen's charter was nothing less than helping to reinvent the way people interact with consumer electronics. Since taking the helm at Elliptic Labs in 2013, Danielsen has built a 40-person strong international team, ensured ample private funding for the company, and brokered successful deals with top-tier blue-chip companies including Qualcomm, Xiaomi, Samsung, Cirrus, Murata, and Knowles Electronics . She also expanded Elliptic Labs' global footprint, opening one office in San Francisco and two in China (one in Beijing and another in Shanghai).
"While it's important to have an amazing core technology, nobody will know about your product if you can't combine this with an ingenious selling strategy." said Laila Danielsen, CEO of Elliptic Labs. "I am honored to be nominated as one of the 20 Women Leaders to Watch in 2017, but more importantly I'm looking forward to bringing Elliptic Labs' technology to more devices in 2017."
For more information visit: Laila Danielsen and 2017 Nominees
* INNER PEACE and INNER BEAUTY are trademarks of Elliptic Labs. All other trademarks or services marks are the property of their respective owners.
About Elliptic Labs
Elliptic Labs is a global AI software company and the world leader in AI virtual smart sensors for the smartphone, IoT and automotive industries. Elliptic Labs transforms products using machine learning and/or sensor fusion to combine ultrasound with data from existing device sensors to produce smarter, greener, safer and more intuitive devices. This allows manufacturers to eliminate the need for infrared, radar and time-of-flight hardware sensors, saving OEMs component costs and freeing up design space. The AI Virtual Smart Sensor Platform™ provides 360-degree precise presence sensing, breathing detection, and touch-free gestures. Elliptic Labs is headquartered in Norway and also operates in the United States, China, South Korea and Japan. Its employees throughout the world are motivated by common core values of diligence, innovation and integrity. For more information, visit: www.ellipticlabs.com.
PR Contacts:
Aoife Kimber
KimberPR for Elliptic Labs
akimber@kimberpr.com
1 650 773 7288